The Church Year: May 24, 2012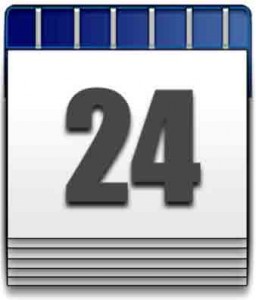 Today is Thursday of the 7th week of Easter. The liturgical color is white.
Saints & Celebrations:
On May 24, there is no special fixed liturgical day in the Ordinary Form.
There is no special fixed liturgical day in the Extraordinary Form.
For information about other saints, blesseds, and feasts celebrated today, you can click here.
Readings:
To see today's readings in the Ordinary Form, you can click here.
Or you can click play to listen to them:
Devotional Information:
We continue our series on the Blessed Virgin Mary. According to the Holy See's Directory on Popular Piety:
206. The faithful like to wear medals bearing effigies of the Blessed Virgin Mary. These are a witness of faith and a sign of veneration of the Holy Mother of God, as well as of trust in her maternal protection.
The Church blesses such objects of Marian devotion in the belief that "they help to remind the faithful of the love of God, and to increase trust in the Blessed Virgin Mary." The Church also points out that devotion to the Mother of Christ also requires "a coherent witness of life."
Among the various medals of the Blessed Virgin Mary, the most diffuse must be the "Miraculous Medal." Its origins go back to the apparitions in 1830 of Our Lady to St. Catherine Labour+¬, a humble novice of the Daughters of Charity in Paris. The medal was struck in accordance with the instructions given by Our Lady and has been described as a "Marian microcosm" because of its extraordinary symbolism. It recalls the msytery of Redemption, the love of the Sacred Heart of Jesus and of the Sorrowful Heart of Mary. It signifies the mediatory role of the Blessed Virgin Mary, the mystery of the Church, the relationship between Heaven and earth, this life and eternal life.
St. Maximillian Kolbe (+ 1941) and the various movements associated with him, have been especially active in further popularizing the miraculous medal. In 1917 he adopted the miraculous medal as the badge of the "Pious Union of the Militia of the Immaculate Conception" which he founded in Rome while still a young religious of the Conventual Friars Minor.
Like all medals and objects of devotion, the Miraculous Medal is never to be regarded as a talisman or lead to any form of blind credulity. The promise of Our Lady that "those who were the medal will receive great graces", requires a humble and tenacious commitment to the Christian message, faithful and persevering prayer, and a good Christian life.